Color and Texture Variation
Fornace Brioni Rocaille tiles are rated V2 / T1
Due to the handmade craftsmanship of many of our tiles and the variety of materials used, there are degrees of variation in our tiles' color, shade and texture. These differences are more pronounced in certain types of tiles than others, especially in tiles from separate production lots, or "batches".
The following is a guide for the different degrees of variation that we have assigned our tiles: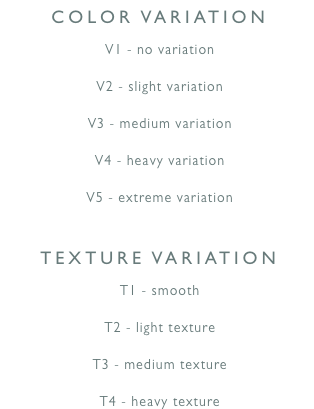 Floor Rating:
N/A - Fornace Brioni Rocaille tiles are for decorative wall applications only.
I - Light Residential (powder room, bathroom floor, dining room, bedrooms, etc.)
II - Heavy Residential (entry way, laundry room, kitchen, mudroom, hallway, stairs, etc.)
III - Light Commercial (boutique, health offices, etc.)
IV - Heavy Commercial (hotel lobby, retail, office building, shopping mall, restaurant, etc)
V - Industrial (restaurant kitchen, bar work area, winery production, exterior hotel entry, airport, car showroom, driveway, etc)
FORNACE BRIONI ROCAILLE INSTALLATION
What's in our tile: Fornace Brioni Rocaille tiles are part of an extraordinary collection of terracotta and ceramic tiles from Gonzaga, a small town in the Lombardy region of Italy, steeped in history and Renaissance culture and renowned for its terracotta. Each cotto tile is created by hand in this family-run company, now in its fourth generation, headed by the Brioni brothers.
Product Description
Non-vitreous decorative ceramic wall tiles, which are hand formed, and fired.
Glazed wall tiles are non-vitreous ceramic tiles intended for interior use, and are not required nor expected to withstand excessive impact or exposure to freeze/thaw cycling. Tiles in this category are not intended for use on floors.
Product Components
Clay, glaze
Dimensions
Rocaille - 10.16 cm x 10.16 cm x 1.52 cm (4"x 4"x 0.60") / approx. 0.10 kg per tile (0.23 lbs)
Average Coefficient of Friction (DCOF AcuTest)
"Wet Dynamic Coefficient of Friction" (DCOF) - N/A - Not suitable for floor applications.
Freeze/Thaw Resistance (ASTM C1026)Fornace Brioni Rocaille tiles are not freeze/thaw resistant.
Water Absorption Test (ASTM C97)
Non-vitreous (7.0% < absorption < 20.0%)
Radiant Heat Compatible
Fornace Brioni Rocaille tiles are radiant heat compatible.
Acid Resistance
Fornace Brioni Rocaille tiles are not resistant to acids and should be cleaned with pH neutral cleaners.
Usage
Interior and exterior (in areas not subject to freeze/thaw) walls, fireplace surround, wet areas (backsplashes, shower walls).
Wet Area Application
The Fornace Brioni Rocaille collection can only be installed as backsplashes or in showers with application of a waterproofing, penetrating sealer like Miracle Sealants 511 Porous Plus.
When installing, make sure these specific waterproofing precautions are taken:
A waterproofing, penetrating sealer (Miracle Sealant 511 Porous Plus) is used to seal the tile surface and grouted lines - before and after grouting.
Single coat re-application of the penetrating sealant is required once a year in shower applications due to the continuous exposure to water.
Rocaille tiles are not recommended for steam shower use.
LEED Credits
The product is an inherently non-emitting source of VOCs (stone, ceramic, metals, powder-coated metals, plated or anodized metal, glass, cement, clay brick, and unfinished or untreated solid wood) and has no integral organic-based surface coatings, binders, or sealants.
Rocaille tiles are considered 'inherently non-emitting sources' under the Low-emitting Materials Credit of LEEDv4/v4.1. This is currently the only credit for our Rocaille tile that is eligible to be used toward LEED.
'Inherently non-emitting' means that these tile types have been shown to not contribute emissions to indoor environments and are therefore exempt from demonstrating compliance with CDPH v1.1-2010 or CDPH v1.2-2017.
Use of these tiles as Wall or Flooring materials should be entered in the LEED v4.1 low-emitting materials Calculator and identified as 'inherently non-emitting' in the Products Tab (Column L).
Disclosures for MR Credit Material Ingredient Disclosures under LEEDv4/v4.1, are not available at this time. We are exploring our disclosure options and hope to have these available Q1/Q2 of 2020.
Disclosures for MR Credit Environmental Product Declarations under LEEDv4/4.1, are not available at this time. We are exploring our disclosure options and have not established a timeline for completion.
Contribution to MR Credit Material Sourcing under LEEDv4/v4.1, does not apply as there is no recycled content, no bio-based materials, no wood, no reused products included in our tile at this time. Extended producer responsibility programs are highly difficult to manage given the nature of end-of-use tile removal methods. Tile can last hundreds of years but fashions often change, which is the dominant reason for its removal. We work hard to ensure our ceramic tiles can withstand the test of time while remaining timeless.
Recycled Content
There is no recycled content in our Rocaille tiles. See Material Sourcing disclosure above.
Percentage of pre-consumer and/or post-consumer materials:
There is no pre-consumer or post-consumer material content in our tiles at this time. See Material Sourcing disclosure above.
Fire Rating
Typically, ceramic tile does not need to have fire rating testing performed. It is our understanding from TCNA that the explanation that ceramic is inorganic, inert, and typically free of materials that could burn or produce smoke is generally enough to satisfy a specifier and that testing is not necessary. Also, the temperatures observed in the testing are typically lower than the temperatures at which ceramic tiles are fired.
Ceramic tile and falls under the description, "because ceramic tile is non-flammable and does not produce smoke in a fire, it inherently meets the flame spread and smoke development requirements of Section 803 of the International Building Code (IBC) for interior wall and ceiling materials." Please follow the link for a TCNA document supporting this and many other positive attributes to using ceramic tiles. TCNA Bulletin: Ceramic Tile for a Safe & Healthy Home